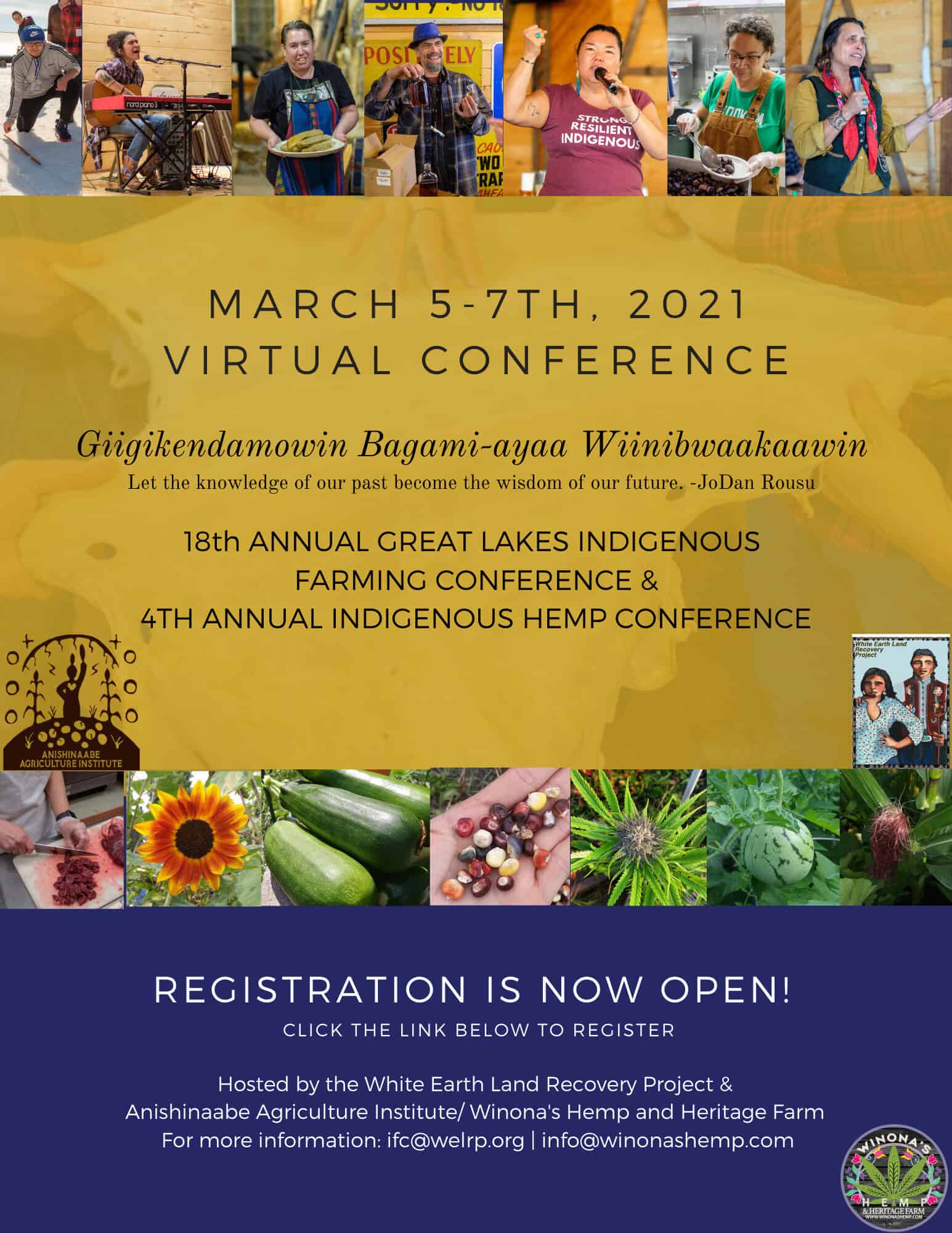 The White Earth Land Recovery Project & Anishinaabe Agriculture Institute are excited to host The 18th Annual Great Lakes Indigenous Farming Conference and 4th Annual Indigenous Hemp Conference together this year March 5-7th, 2021 VIRTUALLY!
Highlighted Presenters

Helga Garza, Executive Director of Agri-Cultura Network (CAN), a South Valley of Albuquerque farmer owned cooperative. The network is inclusive of with 32 allied farms from urban and rural Rio Grande communities committed to sustainable and regenerative growing methods. Helga is inspired by justice, guided by her ancestral ceremonial agricultural calendar engaging community through a holistic intergenerational approach in developing a sustainable food system for New Mexico. Helga Garza is committed to the development of an environmental economy. By developing community driven markets that strengthen and build assets of local farmers while preserving New Mexico's historic culture and tradition in sustainable agriculture. Helga is leading efforts that have increased equitable access to healthy local food, by removing structural barriers such as price, availability, policy climate, and increasing nutritional knowledge through curriculum development of a holistic family-based wellness program that is bilingual, culturally relevant, and community based. Through these efforts Helga Garza is building the capacity of New Mexico's urban and rural small farmers ability to keep production local through an effective farm to market system ensures household livelihood, by providing farmer's the opportunity to grow food for their community contributing to positive health outcomes, economic activity and wellbeing. Helga is a Robert Wood Johnson Foundation Culture of Health Leader 2018-2021, Castanea Fellow 2020, Chair Governing Board of the New Mexico Food and Agricultural Policy Council and Board President of South Valley Main St.
 
Jose LaSalle is an inventor in the fields of renewable energy, green building, and water filtration. Raised from an African, Chamoru, Cherokee, and Celtic ancestry, his work is rooted in a heritage of multi-cultural solidarity movements and people. Jose earned his bachelor of science in electrical engineering from the University of Massachusetts Amherst in 2016, where he founded an interdisciplinary green building initiative and served as an outreach leader teaching engineering to multicultural and marginalized grade school students. Having experiences of energy scarcity in his youth, his mission is to create regenerative technology for the New Green Revolution. He is the founder and CEO of HEMPAX, which is developing hemp-based energy storage devices for (micro)grid and transportation applications.

Linda Black Elk is an ethnobotanist, educator, and food sovereignty activist specializing in teaching about culturally important plants and their uses as food, medicine, and materials. Linda works to build curriculum and ways of thinking that will promote and protect food sovereignty, traditional plant knowledge, and environmental equality as an extension of the fight against hydraulic fracturing and the fossil fuels industry. She has written for numerous publications, and is the author of "Watoto Unyutapi", a field guide to edible wild plants of the Dakota people. Linda currently serves as the Food Sovereignty Coordinator at United Tribes Technical College in Bismarck, North Dakota and spends her free time with her husband and three sons, who are all citizens of the Oceti Sakowin.

Dr. Martin Reinhardt is an Anishinaabe Ojibway citizen of the Sault Ste. Marie Tribe of Chippewa Indians from Michigan. He is a tenured professor and chair of Native American Studies at Northern Michigan University. He is the president of the Michigan Indian Education Council, and the lead singer and songwriter for the band Waawiyeyaa (The Circle). His current research focuses on revitalizing relationships between humans and Indigenous plants and animals of the Great Lakes Region. He has taught courses in American Indian education, tribal law and government, and sociology. He has a Ph.D. in Educational Leadership from the Pennsylvania State University, where his doctoral research focused on Indian education and the law with a special focus on treaty educational provisions. Martin serves as a panelist for the National Indian Education Study Technical Review Panel and as the primary investigator for the Decolonizing Diet Project. He has also served as Chair of the American Association for Higher Education American Indian/Alaska Native Caucus, and as an external advisor for the National Indian School Board Association. He also holds both a Bachelor's and a Master's degree in Sociology.
Highlighted Demonstrators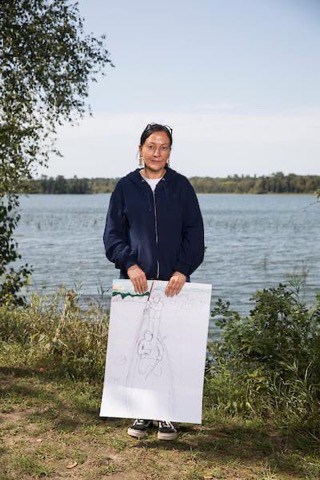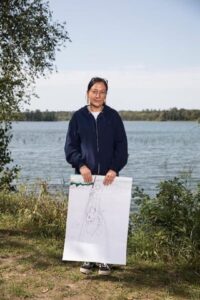 Angelina Greathouse is an Anishinaabe residing in the White Earth Reservation and will be demonstrating how to make Anishinaabe Gauntlet Mittens.

Kevin Finney will be demonstrating Cedar Weaving along with cultural teachings.
Saturday Night Live
Dancing Earth Creations Workshop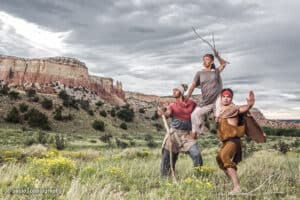 Dancing Earth Creations (DEC) is contemporary dance theater ensemble embodying the intention to renew and revitalize culture, community, and cosmologies through performing arts.  Founded by Artistic  Director/Choreographer  Rulan Tangen, to serve a need not met in the USA, DEC gives hope and opportunity to Native, mixed, global Indigenous and BPOC talent who are outside the dialogue of mainstream performance because of lack of access. We are so proud to share our work with  the amazing circle of Honor The Earth; this is our first program curated by our new Cultural and Program Director Anne Pesata ( of Jicarilla Apache).
DEC is an organic constellation of largely self-taught dancers, composers, costumers, filmmakers, and spoken word artists. Together, DEC artists work with community members, culture carriers,  and Native elders  to explore the rich diversity of ancestral heritage and contemporary identity, collaborating on innovative ecologically themed performances. DEC's work promotes environmental awareness, cultural diversity, and understanding between peoples through contemporary arts expressions. DEC challenges notions of what comprises a professional artist, the role of audience, the boundaries of dance, and the purpose of performance by rooting its aesthetic entirely in earth-centered worldviews.
"We gather as individual artists to create experimental yet elemental dances that reflect our rich cultural heritage and to explore identity as contemporary  peoples. We strive to embody the unique essences of inter-cultural perspectives by creation and renewal of artistic and cultural movement rituals. Ancient and futuristic, our dances are an elemental language of bone and blood memory in motion."
Live Musical Performance By
Blue Mountain Tribe

From Tehachapi, California, Blue Mountain Tribe is a blues rock band who plays original blues rock music thematically centered around Native Americans, War Veterans, People with Disabilities, songs about Inspiration, Love, Desire, Rage, Pain, Rock n' Roll, Blues.  They released their debut album, "All Our Relations", in October 2014.
Performing across Central and Southern California, Blue Mountain Tribe has spanned a decade of excellence in Blues & Rock n Roll, constantly changing and improving. The only known Native American Father/Son Blues & Rock team, Robin and Caleb Hairston, the founders of Blue Mountain Tribe, have finally achieved the ultimate goal of a Band of Brothers where all members are of Indigenous American Blood. The immeasurable experience and talents of the current members spans longer than their prospective lifetimes and all are dedicated and truly "Honored" to represent not only their own Indigenous heritage but to "represent" all 500+ of our original Nations. This is what we mean when we say "All Our Relations". Members and their Nations are:
Caleb Hairston, Lead Guitar, Chiricahua Apache
Robin Hairston, Harmonica player/ vocals, Chiricahua Apache
Pat Mata, Drums, Northern Band Chumash-Yokuts
Jeff "Cooper Hawk" Cooper, Bass, Cherokee
For more information contact us at:
White Earth Land Recovery Project
607 Main Avenue
Callaway, MN 56521
218-375-2012 | IFC@welrp.org
Fax 218-375-2603
Anishinaabe Agriculture Institute
Bridget Guiza
PO Box 63
Callaway, MN 56521
218-375-3200
info@winonashemp.com | bridget@anishinaabeagriculture.com